Headquarters
Westerduinweg 3
1976 BV Ijmuiden
P.O. Box 799
2130 AT Hoofddorp
The Netherlands
Telephone : +31(0)23-554 1313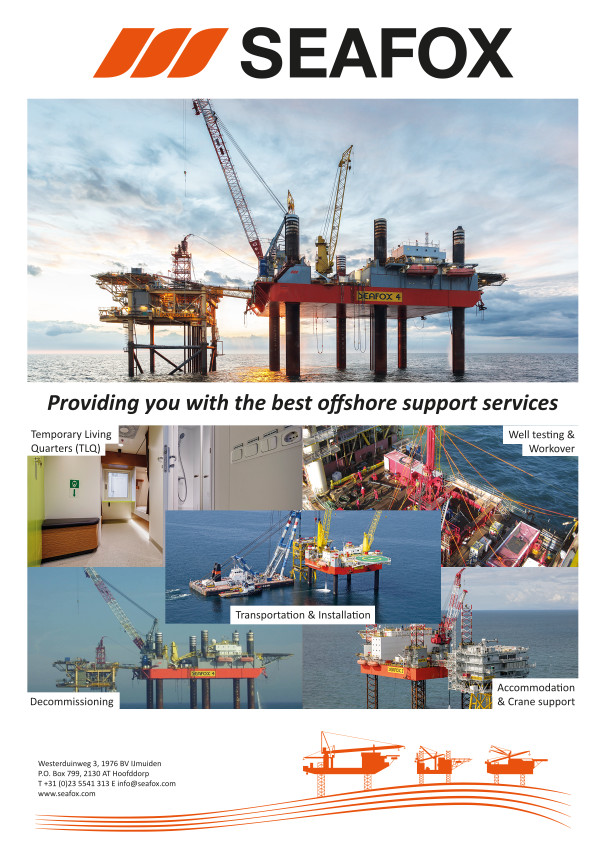 E-mail :
This email address is being protected from spambots. You need JavaScript enabled to view it.
Website: www.seafox.com
Activities : Seafox has more than 25 years of experience in the offshore industry and is a leading global offshore jack-up company, providing services to support the oil & gas and renewable industry.
We own and operate twelve self-elevating jack-up units worldwide, which are operating in harsh and in mild offshore environmental conditions. Furthermore, Seafox offers temporary accommodation units for offshore locations and on board vessels.
The Seafox fleet is well maintained and upgraded to the highest standards. All units operate under an accepted Safety Case and are able to fulfil a wide range of work scopes worldwide.
We currently operate in Europe, the Middle East, South East Asia and Australia, and strive to offer operational expertise locally and meet and exceed our customers' global standards.
Our customers benefit from our wealth of experience in accommodation & crane support, transport & installation, well testing & workover, plug and abandonment and decommissioning.
We rely on the combination of our versatile units and the dedication, knowledge and experience of our personnel to ensure safe and successful execution of projects.
This is reflected in the confidence and commitment we get from national and international clients in the oil & gas and renewable energy industry.